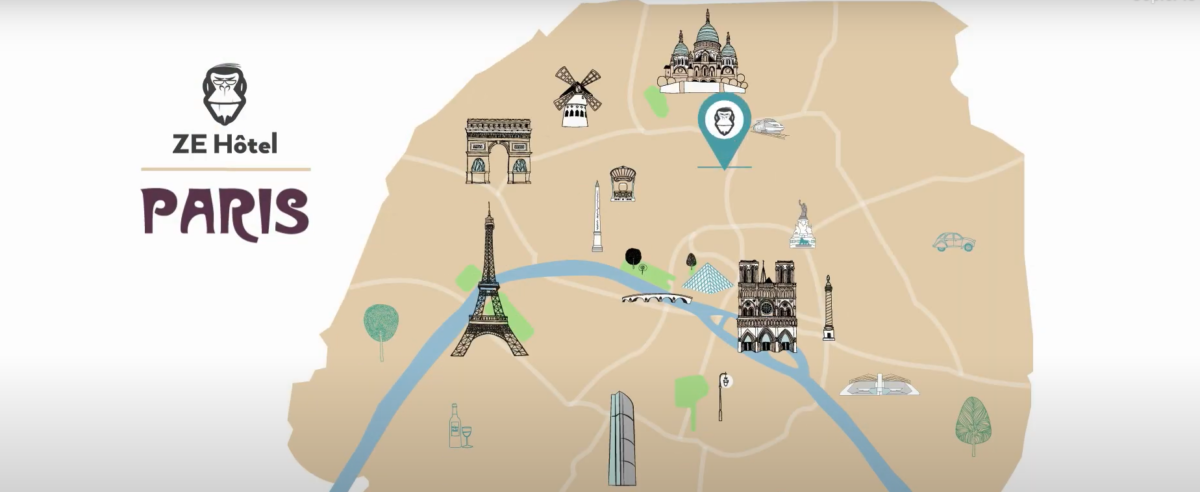 All Paris lovers who have chosen ZE Hotel: if you are looking for ideas to discover the city on foot, here are three must-see routes to explore the most beautiful areas of Paris. To discover in video:
Walking tour 1: Montmartre and the Sacré-Coeur in 1 hour
Montmartre is one of the most charming and picturesque areas of Paris. Start your visit with the famous Basilica of the Sacré-Coeur, located on the hill of Montmartre. From here you can enjoy a breathtaking view of the city. Then stroll through the cobblestone streets of Montmartre, where you can admire the charming stone houses and typical Parisian cafés. Return by the Moulin Rouge to Pigalle, one of the most lively and emblematic districts of Paris.
Walking tour 2 : The Louvre and the covered passages in 1 hour
The Louvre is one of the most famous museums in the world, but there is also plenty to discover in the surroundings. Start at the Louvre Palace and admire its iconic glass pyramid. Then head to the covered passages, such as the Vivienne Gallery and the Passage des Panoramas, where you can admire the windows of craft shops and antique dealers. And if you still have an hour, go to Saint Germain des Prés!
Walking tour 3 : Les Champs-Élysées and l'Etoile in 2 hours
The Champs-Elysées is one of the most famous avenues in the world. Start your visit at the Arc de Triomphe, where you can admire the magnificent views of the city. Then head down the Champs-Elysées and enjoy the many shops and luxury restaurants. End your walk by strolling through the nearby Parc Monceau, where you can relax in the middle of the French gardens.

Now you have three tours to discover Paris on foot and soak up the magical atmosphere of the city. Don't forget to take your time to appreciate each place and perhaps to make gourmet breaks to taste the Parisian specialities!
Once you've had your eyes full, you'll have your hands full! A rest in your room at the ZE Hotel and you can go back to new discoveries!