Romantic promenade Rue des Martyrs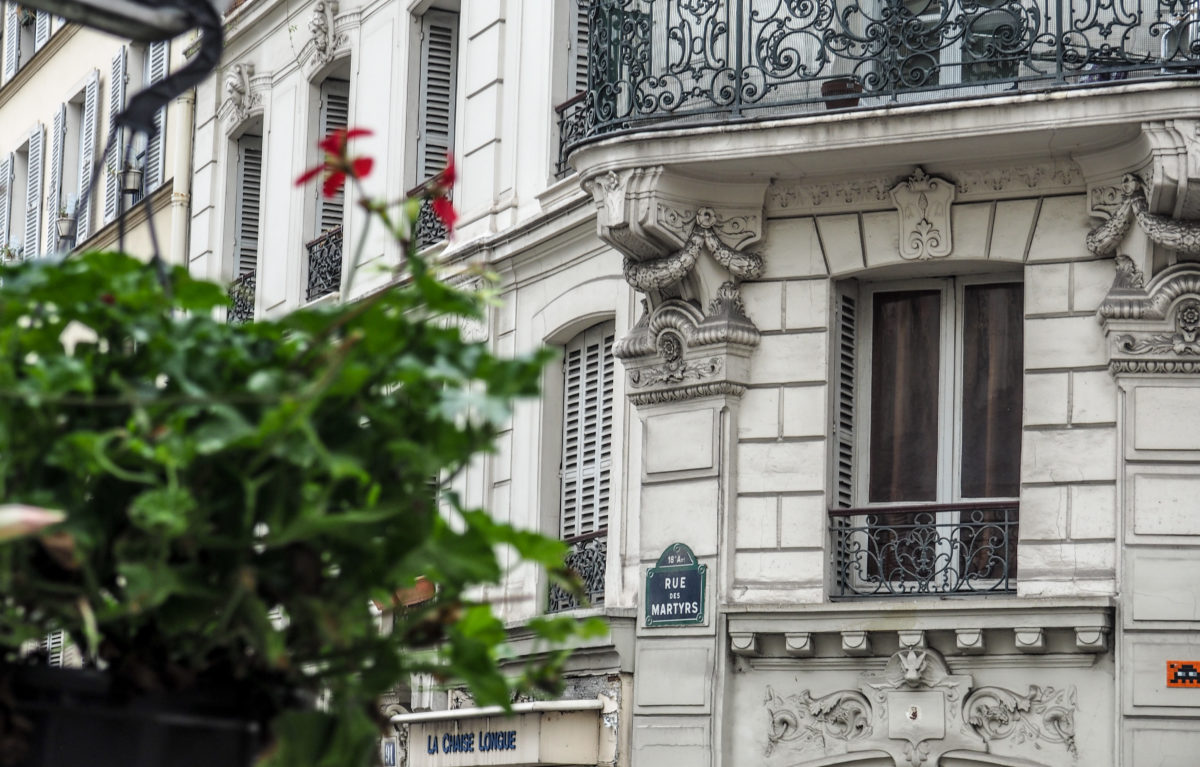 You're looking for spending an hour with your lover, your other half, your sweet-heart? This promenade is the one.
First of all take the "rue Condorcet" from the hotel. From here you'll have to follow the "rue des Martyrs", an adorable commercial street, perfect for some shopping of for a little gustatory adventure in those "commerces de bouches"
(If you'd like to know more about the history of this street, you'll be interested to read our very first article)
For the pleasure of your taste buds, do not hesitate to take this gourmet itinerary, you will find everything for your breakfast, brunch or munchies… From passionate caterers (such as Maison Thielin), to the little madeleines shop (Mesdemoiselles Madeleines), or the several coffee shops (such as Café Marlette), one of the most well-known British place (Rose Bakery), without forgetting the numerous pastries shops and bakeries (such as Sébastien Gaudard!). This street is full of little unique shops; you will find your happiness!
Once you've arrived at the top of « la rue des Martyrs", you will see almost immediately the Church St Jean, as a testimony of the former abbey leaded by Benedictine sisters (which explains the name "Place des Abbesses"). This very first utilisation of cement and red bricks in a religious building, replacing the traditional noble materials, caused a trial as it was quite a shock at the time. The Montmartrois soon rebaptises it :   « St Jean des briques" or "Notre Dame des briques"
"La Place des Abbesses" (located in front of the Church St Jean), is worth going out of your way to see it. First of all you'll notice the exit of the metro 12, "Abbesses" (serving several useful stops such as St Lazare, Montparnasse and Concorde). It is one of the last three covered metro's exits (with Châtelet and Porte-Dauphine); we own them to the architect Guimard who took his inspiration from "l'art nouveau" during the 1900s. This architectural work is in fact classified as historical monument.
The last unusual element of this place is located further back, in the Johan Rictus square, a secret garden (peaceful and quite nice). It is where the artists Frédéric Baron and Claire Kito choose to raise their "I love you" wall. In a world marked by violence, walls are often built to separate, in order to protect you from "the other". This tribute to love appears on the contrary as a liaison, a symbol of tolerance and affection. On those small tiles are numerous ways to write our "I love you", with 311 languages represented.
It is where ends our little romantic itinerary, not far from Ze Hôtel, it's up to you if you want to keep wandering in the streets, allying modernity and Old Paris. We have a special recommendation for a diner (it can be a candlelit dinner), at the excellent italian restaurant Roberta, a few steps away from the "Place des Abbesses".
« Les commerces de bouche » that we recommend
Stay tuned!